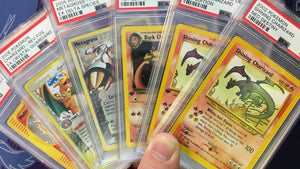 GEM-MINT COLLECTION DISPLAYS AND ACCESSORIES
---
Pokémon Trainers Unite
Circa 1998 when the dream all started. Christmas that year was special, it was the year many children embarked on their own Pokémon journey.

From recess to road trips, every location became a battleground to hone our skills, meet new friends and kept on collecting!

As with our lovely partners evolving to their final forms, so did the journey itself. From an amateur collector evolving into an elite-four-champion, the hobby became so much more!

"Gotta Catch Em All" is now "Gotta Grade Em All"

Let Gem-Mint be your PokéStore for all your collection needs!